President Volodymyr Zelensky of Ukraine would not dream of giving up his country's territory in order to seek an agreement with Russia.Ukraine: No talks with Putin on our land.
In an interview with the BBC to mark the end of the year since Russia launched its invasion of Ukraine, he warned that giving up territory would mean that Russia would "keep coming", and that the West's defenses could end in peace.
Zelensky also says that the attack was expected in the coming days.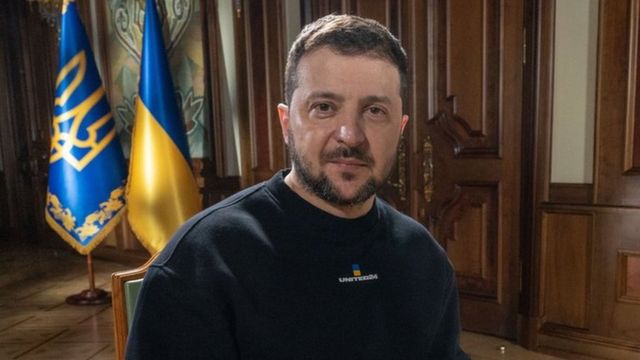 "Russia's attacks are coming from different directions," he said.
But he confirms that the Ukrainian army can continue to confront Russia to the point where they will launch an attack on independence – and he continues to ask the Western countries to give him military aid.
"Yes, modern weapons are more than enough for peace. Chicken's mouth is the only language Russia understands," he said.
In the last week, he met with the authorities of the European Union and the United Kingdom in order to ask the United Kingdom for international aid and to ask for modern weapons to defend his country.
When the head of state of Ukraine asked for modern rescue planes, the British Prime Minister replied that "nothing is impossible". Ukraine: No talks with Putin on our land.
However, Kyiv is not happy with the fact that the West continues to drag its feet in its arms race.
Chars of war accepted by some Western countries, including Germany, the United States, and Great Britain – are known to have a long way to go on the battlefield. President Volodymyr Zelensky continues to ask for Western military aid, saying the expected attack has already begun.
President Zelensky also repeated the threats of the President of Belarus Alexander Lukashenko, where he threatened to join the Russian army in the war if there is only one Ukrainian soldier.
"I hope that [Belarus] will not enter [the war]. As long as it does, we will fight and we will win," he said.
He says that allowing Russia to use Belarusian territory to prepare for war on Ukraine would be a "big mistake".
When Russia started the war, part of its army entered Belarus, 12 months later.
They continued to march down the main road to Kyiv, but they were defeated and had to retreat to a few villages, after being hit hard.
Asked if he is surprised by Russia's war tactics, Zelenksy says he doesn't "value it".
He said, "Why don't they ignore anything? If their forces are given [and implement] those orders, it means that they share the same intentions."
Statistics released this week show that the Russian army is dying at a higher rate this month than at any other time since the first week of the war.
These calculations cannot be confirmed, but the UK Foreign Office says it appears to be "likely to be true".
"Today, our existence is thanks to our unity. I hope that Ukraine is fighting for its existence," said Zelensky.
He says that his country is taking the path of Europe in terms of wealth, and through its culture and traditions.
"We chose this path. We need security. Any agreement based on our land will make us lose our strength as a nation.
"But the problem is not about the harmony itself. Why should we be afraid of it? In life, we ​​are in harmony with millions of people every day.
"The only problem is to know who we are going to make this agreement with? With Putin? No. Because we don't trust him. Talk to him? No. Because we don't trust him".